Product Description
Immerse yourself in the world of comprehensive eye exams with the Essilor SL350 Slit Lamp. This reliable and versatile device offers essential features designed for convenience and functionality, ensuring precise examinations and accurate diagnoses. The Essilor SL350 Slit Lamp combines reliability, versatility, and essential features for comprehensive eye examinations. With its user-friendly design and precise functionality, it empowers practitioners to conduct accurate diagnoses and deliver quality care to their patients.
Product Features:
1. Galilean Binocular Optical System: Delivers clear and magnified views of the eye, enabling precise examination and accurate diagnosis.
2. Tilt Tower: Adjustable up to 20 degrees, allowing optimal positioning for patients of different heights and ensuring comfortable examinations for both practitioners and patients.
3. Easy Selection of Magnification: Convenient drum rotation enables quick and seamless adjustments for achieving the desired level of magnification during examinations.
4. Continuous Adjustment of Slit Aperture: Flexibility in controlling the width and height of the slit beam, adapting to different examination needs and aiding in accurate diagnoses.
5. Standard Filters: Equipped with thermal safety, cobalt blue, and green (red-free) filters, enhancing visibility and facilitating identification of specific eye conditions during examinations.
6. Halogen or LED Illumination Source: Option to choose between bright and focused halogen or LED illumination, ensuring optimal visualization of eye structures.
7. Easy Installation with Integrated Metal Plate: Designed for easy installation and stability during operation, featuring an integrated metal plate for a reliable and hassle-free user experience.
Technical Details:
- Model: Essilor SL350 Slit Lamp
- Optical System: Galilean binocular
- Tilt Tower: Adjustable up to 20 degrees
- Magnification Selection: Drum rotation for easy adjustments
- Slit Aperture Adjustment: Continuous control of width and height
- Filters: Thermal safety, cobalt blue, green (red-free)
- Illumination Source: Halogen or LED
- Installation: Integrated metal plate for easy setup
Click the "Get Pricing / More Info" tab to be contacted with further details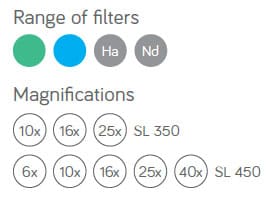 More Info / Pricing