Product Description
Experience efficient and comfortable eye examinations with the Essilor SL300 Slit Lamp. This compact and ergonomic device is designed to provide clear and magnified views of the eye, ensuring accurate examination and diagnosis. Its key features enhance usability and performance, making it a valuable tool for eye care professionals. The Essilor SL300 Slit Lamp offers efficiency, comfort, and versatility in eye examinations. Its compact and ergonomic design, along with its advanced features, make it an ideal choice for eye care professionals seeking reliable and accurate examination equipment.
Product Features:
- Galilean Binocular Optical System: Clear and magnified views of the eye for accurate examination and diagnosis.
- Compact Model Side Type: Space-saving and easy integration into any optometry or ophthalmology practice.
- Easy Selection of Magnification: Quick and precise adjustments for desired magnification levels.
- Continuous Adjustment of Slit Aperture: Control of slit beam width and height for optimized examination process.
- Standard Filters: Thermal safety, cobalt blue, and green (red-free) filters for enhanced visualization and diagnosis.
- Halogen or LED Illumination Source: Option to choose between bright and focused halogen or LED illumination.
- Easy Installation with Integrated Metal Plate: Simplified setup process and stability during operation.
Technical Details:
- Model: Essilor SL300 Slit Lamp
- Optical System: Galilean binocular
- Model Type: Compact side type
- Magnification Selection: Drum rotation for easy adjustments
- Slit Aperture Adjustment: Continuous control of width and height
- Filters: Thermal safety, cobalt blue, green (red-free)
- Illumination Source: Halogen or LED
- Installation: Integrated metal plate for easy setup
Click the "Get Pricing / More Info" tab to be contacted with further details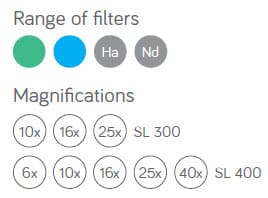 More Info / Pricing